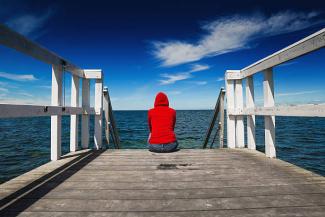 Financial Advice for Widows
Financial advisors help their clients navigate through many of the life events or transitions that we all face.  Many life events are happy ones, like preparing for your retirement, buying a home, planning a wedding, or putting money aside for your kid's college education.  The loss of a spouse is quite different and ranks as one of life's most traumatic events, second only to the loss of a child. The surviving spouse is faced with overwhelming grief and the challenge of undertaking many of life's practical matters, like finances, by themselves. The intersection of sadness and practicality can lead to frustration, confusion and poor decision making. The following suggestions are meant to be part of the answer to the important question of "What do I do now?"
Take your time.  Yes, taking control of your finances is a very important step in rebuilding your life, however, there is no need to rush. Resist the urge to make big moves as financial decisions made too quickly can adversely impact your lifestyle for years.  Do not be bound by arbitrary time periods (6 months or 1 year?) for claiming your new responsibilities.  When you are ready, you will know it.
Focus.  Focus on essential tasks like setting a short-term budget and paying your bills for now. Is cash flow (cash in minus cash out) sufficient to cover ongoing living expenses?  What about one-time expenses like hospital, funeral, legal and estate taxes? Avoid the problems that arise from not setting a budget and living beyond your means. Get all your financial paperwork in order. Get enough death certificates (10 to 15 copies) to provide banks, insurance companies and others for benefits or change of registration.
Social Security Benefits. By fully understanding the decisions you need to make and the impact those decisions can have, you will be in a much better position to choose the right Social Security benefits.

Investment Strategy Changes.  This can be a very difficult topic to consider. It is important to understand that making investment strategy changes does not mean that earlier decisions were bad, only that your current circumstances and needs have changed. Your new strategy should align with your goals and risk tolerance.

Your home.  One of the most common mistakes made by widows is making a hasty decision about their home. Examples include putting your home up for a quick sale or paying off your mortgage. Take your time and assess the cost of staying in your home – you may find that staying in your home is the best course of action.
Grief is personal.  The loss of a loved one is different for everyone. Pay no attention to those who "know how you are feeling". Be patient and give yourself time to heal. Be kind to yourself.
It is ok to say NO.  Understand that vulnerability often accompanies sadness. Be aware that both strangers and family members alike may try to take advantage of you at this most difficult time in your life. There is nothing wrong with saying NO.
Live your life.  Making changes to your life and lifestyle is difficult. Try not to focus on the challenges of the transition, rather think of the new possibilities for happiness and enrichment that may await you.  Do not give up on the dreams or aspirations you shared with your spouse.