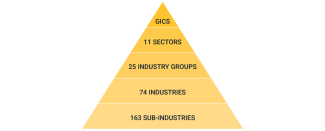 A sector is an industry classification or grouping of companies sharing common characteristics.  The most common structure of industry sectors, the Global Industry Classification Standard or GICS, divides the equity universe into eleven sectors: Communication Services, Consumer Discretionary, Consumer Staples, Energy, Financials, Health Care, Industrials, Information Technology, Materials, Real Estate and Utilities. Sectors provide many benefits, including their typically static composition, clear patterns of volatility and low correlation to each other. In addition to sector assignment, GICS goes further to classify companies into Industry Groups, Industries and Sub-industries.  According to MSCI (a co-developer of GICS), "companies are classified quantitatively and qualitatively and are assigned a single GICS classification at the Sub-industry level according to its principal business activity."
Since the development of GICS in 1999, there have been several major changes to the structure, first in 2016 and then 2018, and the most recent changes which were implemented on March 17th of this year. While the recent GICS changes are not as significant as the 2016 (Real Estate became a sector) and 2018 (Telecommunication Services became larger Communication Services) changes, they will nonetheless result in industry level changes, as industries are being both eliminated and created. The most recent changes impact the composition of five S&P 500 sectors (Consumer Discretionary, Consumer Staples, Financials, Information Technology, and Industrials) and include the reclassification or new sub-industry assignment of 14 stocks with a collective market cap equal to 3% of the S&P 500.
11 of the 14 reassigned companies are leaving the Technology sector. The largest group (8 companies) comes from the Data Processing and Outsourced Services Sub-industry and is moving to the new Transaction and Payment Processing Services Sub-industry (Financials). These 8 companies, which include credit card titans Visa and Mastercard, account by market cap, for 2.7% of the S&P 500 and 10.6% of the Information Technology sector. This makes sense – we have long wondered why these payment processers were not assigned within the Financials sector!  Also leaving the Transaction and Payment Processing Services Sub-industry are 3 companies, HR service providers ADP and Paychex, and Broadridge Financial Solutions – all 3 are moving to the new Human Resource and Employment Services Sub-industry (Industrials).  The last 3 companies to be reassigned are Target, Dollar General and Dollar Tree which are currently classified under the General Merchandise Stores Sub-industry (Consumer Discretionary) and are moving to the new Consumable Merchandise Retail Sub-industry (Consumer Staples).  In addition to the aforementioned company reassignments, there are several more structure changes at both the industry and sub-industry levels.
What does this mean to me as an investor?  We think a focus on industry sectors can provide the investor with a clearer understanding of where stock price returns are generated. A sector rotation strategy provides an efficient means to adjust equity weightings within a portfolio based on an understanding of where we are in the current business cycle. The recent GICS changes are a positive one for investors as constituent relationships within the impacted sectors will become clearer and more accurate. These changes will affect sector characteristics and benchmarks, positioning, and risk-return profiles for mutual funds and ETFs benchmarked to GICS-based indices. For investor equity portfolios which focus on industry sectors, rebalancing may be needed to minimize tracking error and properly account for stock-specific and industry-specific risk of the individual companies and sectors involved in this reclassification.