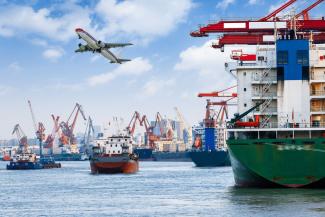 Written by Rick Welch
In December, investors received a trifecta of positive news, the combination of which could be supportive of share price growth in 2020. This timely trifecta included the following: (1) a favorable outlook and steady monetary policy statement of the FOMC, (2) the announcement of a limited trade deal with China and (3) a victory by Boris Johnson in the UK general election, the latter which could provide long sought clarity for the prospects for BREXIT.  In the first unanimous vote since last May, the Federal Open Market Committee (FOMC) left the federal funds rate unchanged in a target range of 1.5% to 1.75% while signaling it would keep rates at their current level through 2020. In its statement we read "the committee judges that the current stance of monetary policy is appropriate to support sustained expansion of economic activity, strong labor market conditions, and inflation near the committee's symmetric 2% objective." On the issue of inflation, Fed Chair Powell said that "inflation that runs persistently below our objective can lead to an unhealthy dynamic in which households expect lower inflation, leading to lower actual inflation. This could make it harder for the Fed to lower interest rates to stimulate growth in a downturn." In his press conference he suggested that "significant and persistent upward pressure in inflation would be needed before the committee would consider a rate hike."  This stance of the Fed is consistent with many global central banks which, as a group in 2019, shifted back into easing mode while cutting interest rates or restarting asset purchase programs.  We think a likely result of this growth friendly posture of global central banks is the extension of the current economic cycle.
Over the past several months the financial markets responded to each bit of news (good or bad) of the ongoing trade conflict between the US and China. Uncertainty about trade policy has discouraged business investment and resulted in a noticeable pullback in US manufacturing activity. The limited trade deal, a Phase One" agreement between the US and China is a step in the right direction and should reassure American businesses that the two-year trade dispute is headed toward a broad resolution. The limited deal, announced on December 13th, would cut in half a 15% tariff on over $120 billion worth of Chinese-made goods in place since September 1st, but would leave in place 25% tariffs on $250 billion of goods that went into effect last year, including plastics, chemicals and machinery. It would cancel a 15% tariff on additional goods which was set to take place on December 15th.  In exchange the deal would increase US exports to China by $200 billion over two years, including a big increase in farm exports ($50 billion) and delineate commitments by China in the areas of intellectual property and forced technology transfers. While the limited trade pact between the US and China will reduce trade tensions and some uncertainty, it will leave investors with the question of whether the parties have the political incentive to achieve a long-term durable agreement in 2020 or if the conflict will persist well beyond.
The victory by Boris Johnson and his Conservative Party should provide some impetus to resolving the bruising 3-year BREXIT process. Mr. Johnson's convincing victory means he can now ratify a BREXIT agreement between the UK and European Union. While defining the post-BREXIT economic and political relationship between the parties will be difficult to achieve, the December election result reduces the number of likely outcomes from stay, go or leave with no withdrawal agreement to, probably, just go. Less outcomes translates into less uncertainty and perhaps a brighter near-term future for both the UK and EU.  One factor in Mr. Johnson's favor is that while some leaders of the BREXIT movement may have specific objectives in mind, most BREXIT support has been less about the details of the exit and more about the principle of UK sovereignty.